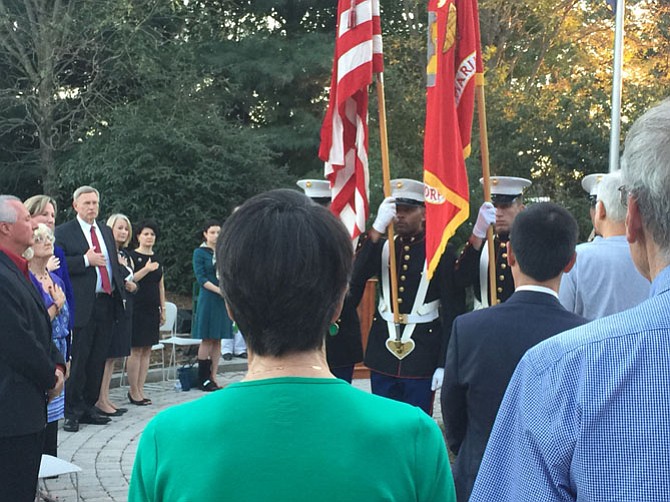 Construction on the Pentagon began on Sept. 11, 1941.
And at the candlelight vigil held in Great Falls precisely one year after 9/11, USMC Col. Pete Hilgartner and The Friends of the Great Falls Freedom Memorial were inspired to create the Great Falls Freedom Memorial.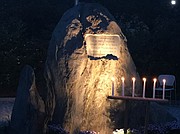 "The Community of Great Falls, Virginia Honors Those Who Have Given Themselves to the Cause of Liberty and Freedom," are the words engraved on The Great Falls Freedom Memorial.
About 100 people attended the annual Great Falls Freedom Memorial 9/11 Memorial Ceremony on Friday, Sept. 11, 2015 at twilight.
"We all know where we were, what happened," said U.S. Rep Barbara Comstock (R-10). "The emotions run strong."
"The terror of 9/11 cannot prevail," she said.
Comstock evoked more than a few tears as she shared memories of Great Falls resident Barbara Olson, who died on 9/11.
"We shall never forget or be unvigilant," said Andy Wilson, president of the Friends of the Great Falls Freedom Memorial.
Wilson asked everyone in attendance to define freedom as he led an emotional, thought-provoking tribute to the six Great Falls residents and nearly 3,000 Americans who died on Sept. 11, 2011. Sara Hilgartner rang the bell as Wilson read the names of six residents of Great Falls who perished on Sept. 11, 2001. Comstock lit six candles to remember each of them.
Maria Glover, law professor at Georgetown, sang The National Anthem, Amazing Grace and God Bless America.
Earlier in the ceremony when Maria Glover sang "The National Anthem," Wilson said, "Gives you goosebumps, doesn't it?"
Which is what the entire ceremony did, and has done, year after year at Great Falls Freedom Plaza.