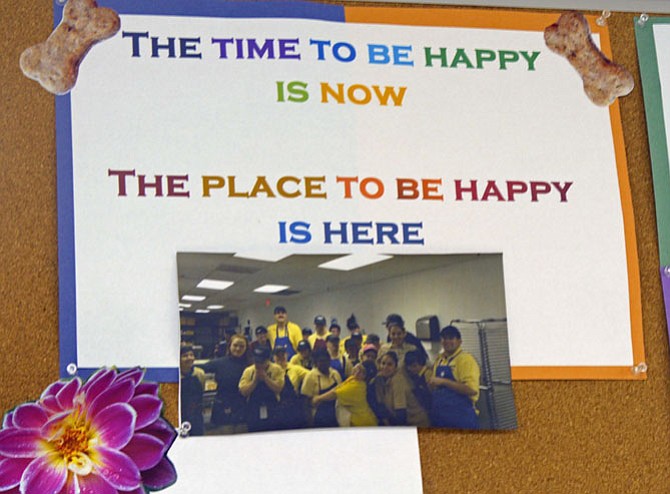 Alberto Sangiorgio walks through the kitchen at Wildflour Caterers bumping pinky fingers with Tasha, stopping to say hello to Cathleen and Phillipe as he walks by.
"The first thing I do every morning is say hello individually to each person — that is, after I talk to my mother" as he points to her picture on the wall. "I tell her how grateful I am for everything she did that got me here today." Sangiorgio is head chef and general manager of Wildflour Catering located in an industrial park off Willard Road in Chantilly. Sangiorgio employs 49 people with disabilities. This year he developed a 26-month curriculum for his "chef-in-training" program. Sangiorgio says he began with a class of six students who will graduate in 2018 and he has chosen nine more to follow soon. Students come from Arlington, Alexandria, Falls Church, Prince William County and Fairfax County.
"They will be trained A to Z in everything absolutely possible, to fry, to cook." He said the first thing they learn is how to make tomato-basil, chicken and veggie soups. "As they learn a skill or a recipe, it goes into the blue book. They started dicing onions, now they're cutting on the bias. Right now it is slow as they get the technique; the speed will come later. They'll be cutting chicken, trimming beef." Sangiorgio explains they have a system to trim the chicken, take the fat out. "You want perfection. We teach them skills to cook to perfection."
The students work from 8:15 a.m. - 2 p.m. five days a week. "They love coming here," Sangiorgio said. "We work with their parents and I meet with the families every six weeks. I tell the parents this is a job and their kids need to work at it. And it's not just working; it's attitude." Signs on bulletin boards throughout the building encourage: "The time to be happy is now. The place to be happy is here."
Sangiorgio says they provide a number of services for the employees. The walls in the hallway of the building are crowded with framed certificates for "employee of the month."
"We also give them each a certificate of their own to take home when they are chosen as employee of the month." They must have perfect attendance, a good attitude, treat each other with respect and dress appropriately. "We work on it all. A little drop every day. It gives them incentive and they are very proud to receive an award," he said. Other posters feature the progress of the six students in the first class. Further down the hall is a collage of snapshots from the annual Christmas excursions to Children's Hospital where the students deliver toys to the sick children. "See those big grins. It teaches our employees to give beyond themselves."
Sangiorgio passes the conference room. A large white board says: "Air borne illness" and "cross contamination." He says they have sessions for the employees to teach them about different aspects of food. "Notice how clean everything is in the kitchen. Hygiene is a priority."
The kitchen door swings open. Five of the six students in the first class are working at a large wooden counter. Joey is grating carrots. They will be used for the vegetable soup. Next to him Jonathan Is cleaning mushrooms that will go into chicken cacciatore with Kerry snapping beans that will go into a salad.
Across the way Neil Dejesus is mixing scrambled eggs, salsa picanté, chopped scallions and jalapenos, mixed shredded provolone and cheddar cheeses. "I will add chopped chicken that I have roasted for about 40 minutes with thyme and wrap it in a burrito,"
Dejesus said. He started as a new chef in April after 13 years working on a cruise ship and will help teach the students.
Sangiorgio said, "I got this burrito recipe when I was visiting my son in Austin and I asked the chef what was in it. It makes a good breakfast." The burritos will join veggie spring rolls, salmon cakes, chicken quesadillas and Santa Fe chicken rolls in the glass case in the Wildflour café next to the shelves loaded with fresh pastries. Nearby the lunch buffet is spread out with salad ingredients for "make your own" and a selection of prepared specialties, produced by the employees. "Usually my lunch is this seafood, the egg salad and the cold potatoes with vinegar," Sangiorgio said.
Sangiorgio walks into an adjoining kitchen waving at a number of employees scattered around the room. Daniel V. is from Alexandria but travels to Chantilly where he makes the famous dog biscuits produced by the kitchen. They are rolling out dough for the dog biscuits.They are stamping out the dog bone shape, pricking the biscuits with a metal roller so they won't rise, and then baked. After two days of drying, the dog bones will be packaged in round plastic containers for sale. "It took me seven years to develop the recipe, to get them 'just right crunchy.' You've got to be patient. " He adds that they are a big seller.
Sangiorgio says part of the training includes food manager skills so the students can be certified as a food manager, which is important to get a job in the field.
"We give them a problem and ask them how they would fix it. For instance what would happen if you left raw chicken out while you took a break? You would have to throw it away and we teach them the value of how much it would cost to do that. At the end of the course, we will set up a super test. It will be 4-5 hours where they will make a whole meal," he said.
Sangiorgio says that his students with disabilities learn the same way as everyone else. The only difference is the length of time it takes to learn. "We go to them and work within their box so it's easy for them. We don't ask them to come to us."
Wildflour opened in 1994 and at that time employed three people with disabilities. Today Wildflour is a million dollar business with 49 employees with disabilities and 79 applications on file from those hoping to get hired at Wildflour.
The WIldflour program is in partnership with the Fairfax-Falls Church Community Services Board to offer employment opportunities for people with disabilities and to encourage upward mobility as part of a community-wide effort.