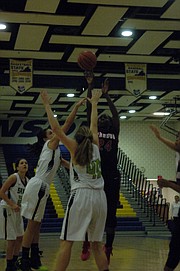 The Herndon girls' basketball team made its first-ever state tournament game a memorable one.
Herndon, the 6A North region's No. 4 seed, upset 6A South champion Woodside 53-41 on Friday during the state quarterfinals at VCU in Richmond.
The Hornets advanced to the semifinals, where they will face two-time defending state champion Cosby at 7:15 p.m. today at VCU.
Herndon, the Conference 5 runner-up, earned a state berth by beating Conference 8 champion Battlefield 50-48 in the region semifinals on Feb. 24. The Hornets then lost to Fairfax in the semifinals on Feb. 26 and Langley in the third-place game on Feb. 27.
Despite the low seed, head coach Cornelius Snead said the Hornets can play with any team.
"As far as being the No. 4 seed, we didn't play well against Fairfax, and against Langley they just made a few more plays than us down the stretch," Snead wrote in an email. "Never the less, we are in the state tournament and all we needed was an opportunity we feel we can beat anyone on any given night."
Indeya Sanders led Herndon with 22 points. The junior guard reached 1,000 points for her career.
"We got great contributions from Sabrina Tolbert, Maureen Curran, Shawnice Gresham, Devyne Newman and Janiece Loney," Snead wrote, "but [it was an] all-around great team effort."
The win improved Herndon's record to 21-7.