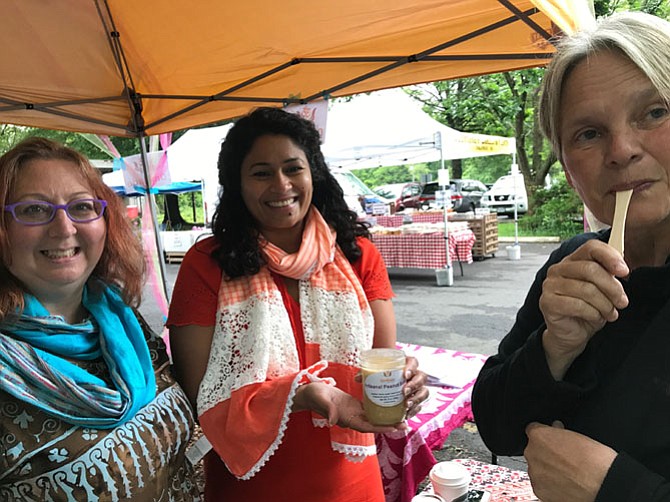 McLean — With more than 30 years of continuous operation, the McLean Farmers
Market is one of the longest running markets produced by Fairfax County Park Authority. It is located at 1659 Chain Bridge Road and is open 8 a.m.- noon, every Friday now through Nov. 17, except for Friday, May 19 when it will be closed for McLean Day set up.
The market is tucked away within Lewinsville Park and is surrounded by trees. For families with small children as well as one-stop shoppers, the public setting is perfect. Injie Wakil from Alexandria is a Mclean Farmers Market vendor; she owns The Jammerie. "It's beautiful here. The market reminds me of Parisian markets, quaint and lush," she said. "It has everything you'd ever want without walking a million miles."
On Friday, May 12, 17 vendors delighted shoppers by offering a variety of products displayed in abundance. Tables in the open-air market overflowed with locally grown mainstream and heirloom produce, farm fresh eggs from free-range chickens, grass-fed meats, organic baked breads and homemade quiches, as well as potted herbs, flowers, and other plants.
Bill Smith is one of the two McLean Farmers Market managers there to oversee the weekly operation. Smith reported the McLean market featured three new vendors-Hidden Creek Farm, Layla's Lebanese Restaurant, and Om Lassi. The vendors offered many new products.
Hidden Creek Farm is a woman-owned 250-acre conservation farm in Fauquier County. Like all other providers selling at Fairfax County Farmers Markets, Hidden Creek Farm's business location is within the 125-mile radius requirement. They sold only products they grew, raised or made themselves. Produce was non-GMO and chemical free. Specialties included Asian vegetables and value-added products such as no-fuss bread and cake mixes, low-sugar jams and jellies, soups, and dilly beans.
The second new vendor at the McLean Farmers Market was Layla's Lebanese Restaurant, a family-owned and -operated business from Alexandria and Woodbridge. Since owners, Michael and Mathil Chebet had established a loyal customer base at their restaurants; they sought an opportunity to expand the availability of their flagship products to customers in their own neighborhoods. The Chebets applied to become vendors at select Fairfax County markets, including the McLean Farmers Market. On Friday, in a cold rainy mist, they sold container after container of three types of hummus — classic, black bean, and sautéed beef and pine nuts, each made from fresh local ingredients.
Om Lassi was the third new vendor at the McLean Farmers Market. Operated by Radhika Murar and Susan Sather of Reston, Om Lassi offered shoppers organic yogurt-based smoothies with very little sugar, artisanal peanut butters in five flavors, and baked samosas. When asked how long they'd been in operation, Sathern said, "Today is our first day ever. We've been here 34 minutes. We've made quite a few sales in the half hour."
Bob Baldwin from Falls Church is the other half of the "Dynamic Market Manager Duo." When Baldwin was asked how his garden compared with what was offered here that morning, he said, "My garden doesn't compare with this. The market offers the best strawberries. I have no flowers and no herbs. In the high season, they have corn too."
Baldwin spoke about the dedication of many of the McLean Farmer Market vendors, how some of them must leave their farms well before dawn to drive two to three hours to set up before the 8 a.m. opening. One of those vendors was Lois Produce, LLC from Montrose Virginia, near the Northern Neck. Lois Farm is a 110-acre family farm owned by Gary Allensworth. It has been in his family since 1882. Lois Produce offered a large variety of mainstream vegetables and their specialty item, elephant garlic.
Baldwin also mentioned the long-term commitment of many of vendors who have been coming to the McLean Farmers Market, some for over 30 years. Lyn Phipps, owner of Lyn Phipps Plants, LLC was one of the three long-time standing vendors, along with Sharkawi Farm from Broad Run, and Lois Produce from Montross. Asked why she has continued to come for so long, Phipps said, "I enjoy coming to the market; my friends, the vendors are here, and my friends, the customers. It gives a routine to my life."
For more information on the 17 vendors at the McLean Farmers Market or about the Fairfax County Park Authority Farmers Markets visit fairfaxcounty.gov.