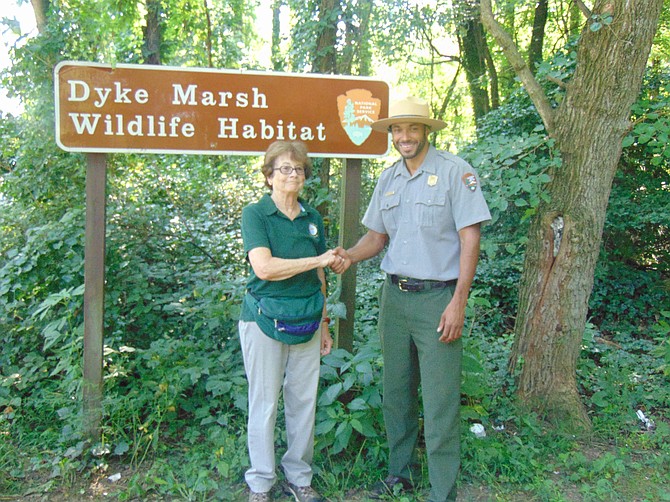 The National Park Service and U.S. Army Corps of Engineers have started construction on an approximately 1,500-foot breakwater at Dyke Marsh Wildlife Preserve.
In an Aug. 8 press release, the park service stated: "The breakwater will help protect the marsh from erosion, shield the marsh from storms and encourage the accumulation of sediment, which is necessary for marsh regeneration. The first part of the breakwater construction will involve placement of rock baskets, known as marine mattresses, in the Potomac River to establish the base of the structure and provide stability for subsequent materials.

Glenda Booth, president of the Friends of Dyke Marsh, praised the announcement: "A fully-functioning Dyke Marsh can help buffer the Mount Vernon community from storms that come up the river and provide some flood protection since wetlands perform like sponges and can absorb floodwaters. Congress created the National Park Service to preserve and protect our nation's greatest treasures. The Dyke Marsh Wildlife Preserve is one of those treasures. Dyke Marsh will be completely gone by 2035 without restoration action [according to] the U.S. Geological Survey. Congress directed that the Dyke Marsh Wildlife Preserve be restored. The Friends of Dyke Marsh are very pleased that restoration, for which we have advocated since our founding in 1976, has finally begun."
Construction of the breakwater started in July and is expected to take up to 18 months. Marsh restoration work will begin following the completion of the breakwater, according to the park service.
Through the Dyke Marsh Restoration Project, the National Park Service and U.S. Army Corps of Engineers will restore portions of one of the largest remaining freshwater tidal wetlands in the Washington metropolitan area. Once completed, this project will support habitat for a variety of plants and wildlife, act as a natural filter to clean the Potomac River and provide a storm buffer for the historic and scenic George Washington Memorial Parkway.
It is estimated that the southern portion of Dyke Marsh has existed for 2,200 years, and the northern marsh has existed for 500 years. This project will focus attention on the northern marsh. Dyke Marsh supports 239 species of resident and migratory birds and contains the only known nesting habitat in the area for state and regionally rare species such as least bitterns and swamp sparrows. The marsh supports 300 plant species, including rare state species such as river bulrush, Davis' sedge and rough avens. It also provides habitat for 38 species of fish, 30 species of reptiles and amphibians, and more than 6,000 species of arthropods, according to the park service.
The National Park Service completed the Dyke Marsh Restoration and Long-term Management Plan in 2016. The environmental compliance documents are available at: https://parkplanning.nps.gov/projectHome.cfm?projectID=20293.