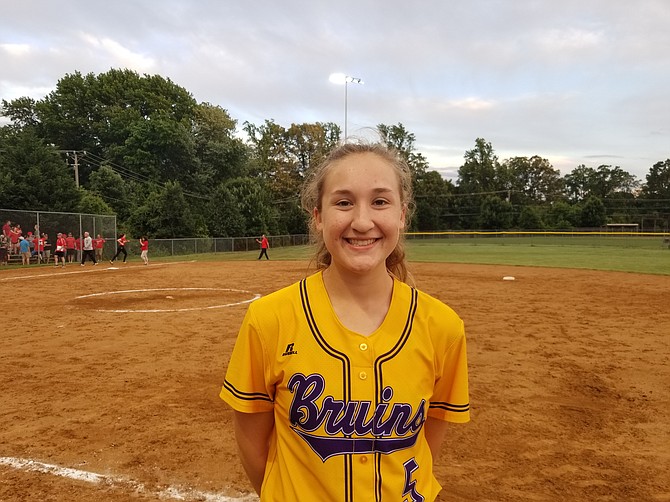 "Regional champions, that was just icing on the cake. It was a great season." —Lake Braddock senior Ally Kurland
Senior catcher Ally Kurland went 3 for 3 with a pair of doubles, and sophomore pitcher Mia Haynes did not allow a hit during the final five innings, but the Lake Braddock softball team's 2018 season would end against McLean just four days after the Bruins won a region championship.
A first-inning single by McLean shortstop Rachel Remer plated the game's only run and the Highlanders defeated the Bruins 1-0 on Tuesday in the 6A state quarterfinals at Lake Braddock Secondary School.
Haynes surrendered an infield single in the top of the second but did not allow a hit for the remainder of the contest. The sophomore's performance in the circle went for naught, however, as Lake Braddock failed to score despite having a runner in scoring position in each of the first four innings.
"I didn't think one run would do it," Lake Braddock head coach George Rumore said. "[Haynes] settled down and did a great job after that."
Kurland ripped a two-out double to deep right in the bottom of the first, hit an opposite-field double with two outs in the third and led off the sixth with a single. Each time, however, Kurland's courtesy runner was stranded by McLean pitcher Julia Longo, who earned the win with a five-hit shutout.
Kurland finished her high school career with the strong performance and will play college softball at Penn State.
"She's done a great job," Rumore said. "You can't say enough about the kid."
Lake Braddock designated player Colette Beaudoin went 1 for 3.
Haynes suffered the loss, allowing one run on two hits in seven innings. She walked two, struck out two and hit one batter.
While the Bruins were disappointed with Tuesday's outcome, Rumore said the season was a success. Lake Braddock finished the campaign with a 20-5 record and beat rival South County 2-1 on June 1 to win the Region 6C championship.
"It's a great feeling for the kids to win a regional like that because they're hard to come by," Rumore said. "That was big. We wanted to beat South County as much as they want to beat us. We wanted to win that regional. … The girls just played hard and got it done."
After splitting two regular season meetings with South County and losing to the Stallions in the Patriot District title game, Lake Braddock traveled to Lorton and beat South County to capture its first region championship since 2002.
"This season was amazing," Kurland said. "Regional champions, that was just icing on the cake. It was a great season."