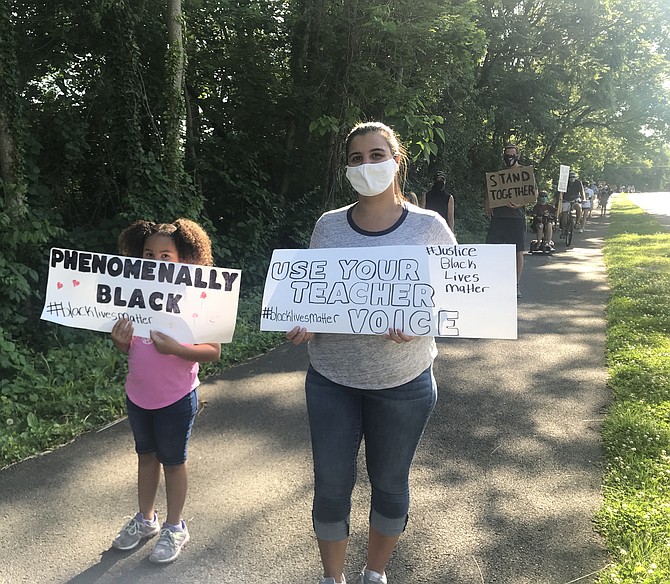 The call-and-response was sometimes called by children:
"Say his name."
"George Floyd"
"Say his name."
"George Floyd."
The response from more than 200 people, spread out for social distancing over several acres of Cabin John Local Park, could be heard over the persistent supportive honking of cars driving by.
"Black Lives," called out the young one with the bull horn.
"Matter," came the reply.
"Black Lives …"
"Matter."
"Say her name."
"Breonna Taylor."
"Say her name."
"Breonna Taylor."
The families that gathered on the fields of Cabin John Local Park on Saturday, June 6 settled an appropriate distance from other families, with almost every wearing masks. They came in support of Black Lives Matter, and for racial justice. Most were residents of Cabin John and arrived on foot, marching up or down MacArthur Boulevard. For many families, a first protest experience for children was also a first community outing after months of lockdown and the mood was festive. But the opportunity to support racial justice and come together with community members with shared values was a winning combination.
There were protests in downtown D.C., all over the country and in many places in Montgomery County this weekend.
Meanwhile, Montgomery County Council planned to declare racism as a public health crisis at its virtual meeting on Tuesday. "Research demonstrates that racism itself is a social determinant of health. Scientists now see race as a social, cultural and/or political construct wherein de facto racial segregation and race-based discrimination have real consequences on health and health disparities," the Council said. The full Council is sponsoring this resolution, which is spearheaded by Councilmember Will Jawando. Disparities in health outcomes have been amplified during the Covid-19 pandemic, as African Americans have the highest number of recorded cases and deaths. This is true across the United States, in Maryland and in Montgomery County, where African American residents account for 25 percent of the deaths, while representing 19 percent of the population.