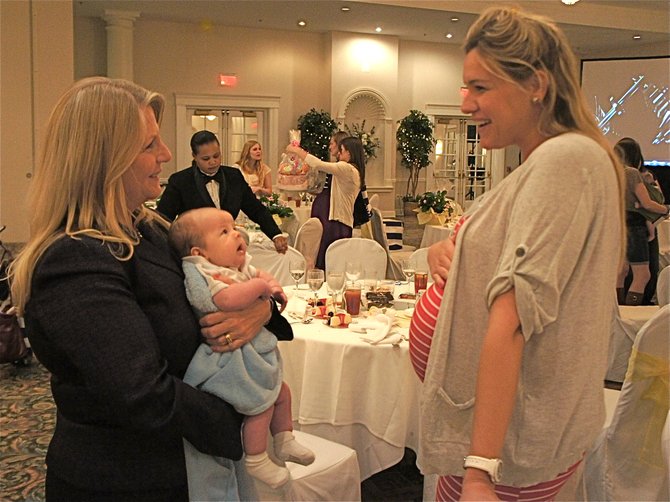 It started with a phone call 28 weeks ago.
What happened in between—the planning, the coordination, the logistics, the marshalling of personnel and resources, and just a lot of hard work—would have made a Pentagon strategist proud. It's a fitting analogy since the recipients of all this effort were more than 100 expectant and new military moms, representing all branches of military service, who attended a very special group Baby Shower at The Waterford in Springfield on Aug. 21.
The phone call was from first lady of Virginia Maureen McDonnell to Julie Clemente of McLean. When not absorbed in her role as the president of the Friends of Clemyjontri Park in McLean, Clemente is often to be found involved in activities as a member of the First Lady's Initiatives Team Effort (FLITE). FLITE is Mrs. McDonnell's answer to her husband the Governor's Inaugural Address call to pursue "A Commonwealth of Opportunity." One hundred women from across the state belong to FLITE, working to identity programs, activities, individuals and organizations that demonstrate exemplary achievement within the first lady's four key focus areas and providing assistance and support for their efforts. One of those focus areas targets military families, seeking ways to give back to those who serve and those who support.
"Of course you say 'Yes!' when the first lady of Virginia is on the line!" said Clemente when describing how the baby shower was conceived. "Especially when she's asking you to help in such a worthwhile effort."
The next step for Clemente was contacting Operation Homefront's DC Metro Chapter. Chapter co-founder and President Vivian Dietrich was delighted to co-host. The group has experience organizing military baby showers and gladly accepted the assignment.
Clemente and Dietrich then took things to the next level. Clemente contacted her friends, Heidi and Erik Murkoff. Heidi is the creator of the best-selling "What to Expect" pregnancy, birth and parenting series and website that began with the book "What To Expect When You're Expecting." Hoping to receive a few signed copies of the book as giveaways at the shower, Clemente was nearly overwhelmed when Erik Murkoff offered books for all the attendees—and a guest appearance by Heidi who would also do a book signing and lead a Q&A session.
Operation Homefront DC Metro's Dietrich did her share of recruiting as well, lining up a speaker from Fort Belvoir to provide practical baby care information and snagging Emmy-award winning meteorologist Kim Martucci as the day's emcee. Martucci, who currently freelances in our area and can be seen doing the video forecast for NBC 4, couldn't have been a better choice, being close to the due date of her own pregnancy.
Throughout the day, Operation Homefront volunteers circulated to assist, often taking a baby for a stroll while the mom had a chance to eat, take notes, or just stretch and take a break.
Mrs. McDonnell also added to the baby shower swag that the moms would be taking home. She and the governor had red "onesies" made for each of the moms with "Our Little Hero" printed on the front and a "Thank You from Governor and Mrs. Bob McDonnell."
"I am the daughter and the daughter-in-law of men who served. My husband served, active and reserves, for 21 years. Even more recently, I have spent many long nights waiting anxiously for that phone to ring. Just like all of you, I waited to hear that beautiful voice and know that they're safe," said Mrs. McDonnell, referring to her daughter Jeanine who served as an Army signal corps officer in Iraq. "Virginia needs to remember our service men and women and their families. You all are the selfless, quiet heroes of the freedoms we all wake up to each morning."
Heidi Murkoff was next up, speaking and then leading a lengthy Q&A session. Hands just kept being raised. The moms seemed genuinely relieved to be able to ask a wide range of questions and ask for advice.
More photos and information at www.firstlady.govenor.virginia.gov and Operation Homefront at www.operationhomefront.net/dcmetro.