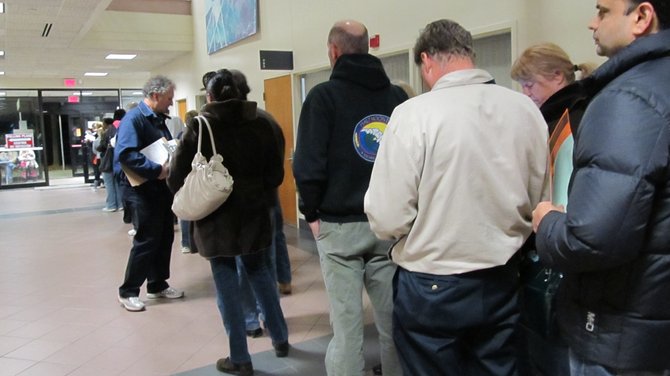 The line of 100-plus voters casting absentee ballots at the Reston Government Center Friday evening moved quickly. Poll workers Mari McColl and Joe Gofus frequently walked up and down the lines, checking to make sure forms were filled out correctly, and voters got answers to their questions.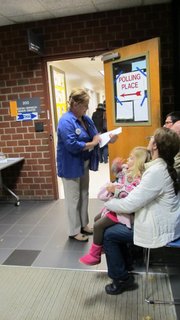 "Do you have your forms? Any questions about your ID? Need anything else, a beer maybe?" joked Gofus.
"We haven't had any real problems," McColl said. "We only had to turn away one voter so far, and that was because the only form of ID this man had was an out-of-state driver's license." McColl said election volunteers provided the man with the list of acceptable forms of identification. McColl said most absentee voters have been using their new Voter Registration Cards, sent out by the State Board of Elections in early October.
McColl said the line Friday night was relatively short compared to earlier in the week.
"On Thursday we had over 750 people come through," she said. "Things have been hopping, but it's worth it to be part of the process as long as people vote."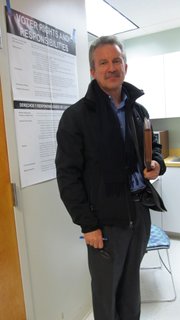 Jim Eggeman of Vienna, standing in line at the Reston Government Center Friday night, was one of the 82,145 voters in Fairfax County who cast an "in-person" absentee ballot by Nov. 3, according to Cameron Quinn, the County's chief elections official. "This is more convenient than trying to get here on Election Day, and I will be working all day," he said.
Quinn said absentee voting was down slightly this presidential year—a total of 93,014 absentee ballots mailed—compared to 107,145 in 2008.
"We typically have high voter turnout in Fairfax County," Quinn said. In 2008, Quinn said 79 percent of the County's registered voters cast their ballots, compared to 38 percent nationally. And nearly 90 percent of eligible voters, about 721,000 out of 800,000, have already registered to vote in Fairfax County.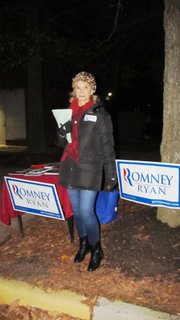 Fairfax County's Office of Election employees have been working overtime the past few months to make sure voters are "election ready" on Tuesday, Nov. 6.
While Virginia's new Voter ID laws was the hot topic in the run-up to the Nov. 6 elections—Quinn said many of her office's 600-plus calls each day concerned the Voter ID measures—it wasn't the big question in many polling stations. Redistricting was.
"Now I'm confused," said Oakton voter Barb Cranston. "I thought I was in the 11th district, but someone just told me I'm in the 10th Congressional district."
"I'm not sure if I'm still in the 11th district," Eggeman said, as election volunteers walked through the line, looking up addresses to help guide voters to the right ballot box.
"I didn't even know there was redistricting," Eggeman said.