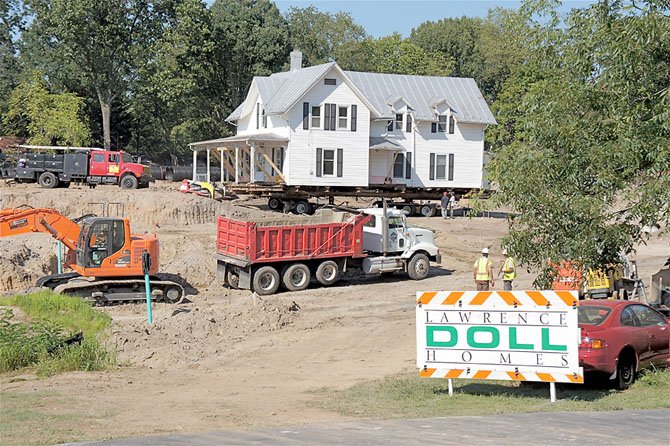 No one seems to know exactly when the old white farmhouse at 820 Monroe Street in Herndon was built, or who the first owners might have been, although it's rumored that it was originally built as a summer home for a DC resident. Ninety-three-year-old Carl Payne is the last private owner. He bought the place from the Yount family, who had owned it, and about 50 acres of present day Herndon, since 1861. Some 37 years later, he sold it to Lawrence Doll Homes of Fairfax when "it just got to be too much for us," he said. On Wednesday, Sept. 12, Carl and his wife Alberta returned to watch as the house was shifted 200 feet on the site, taking its place as the pride of Monroe Hill, Doll's new development of nine custom homes. "Of course, it's sad," said Payne, "but at least it's still standing." "The saddest part," added Mrs. Payne, "is losing the trees. Carl planted a lot of them himself, including a dogwood for each of his grandchildren."
Will Lange of Doll Homes acknowledged the mixed feelings that often come when the old makes way for the new, but expressed his pleasure that the home was saved from further deterioration and has become the inspiration for the Monroe Hill designs. "It's quite an undertaking, but when it's done, the house will be the centerpiece of this community," he said. "We're proud to be building a neighborhood, not a tract of houses. Front porch houses."
Lange is a Herndon resident, and actually lives directly behind the new development in what he called the "torture test" of this collection. "Glad to say, my house passed the test."
The Paynes were joined by a number of town officials, local historians, and residents. Elma Mankin, sometimes referred to as the Queen of Herndon, watched with eagle-eyes as the crew from Expert House Movers slowly moved the house on its platform of stilts and steel beams, using remotely controlled wheels and a bit of careful hands-on turns to coax it into its new slot. Like the Paynes, Mankin has a connection to the house. She was named after former owner Mrs. Elma Yount and has fond childhood memories of the homestead and the people who lived there.
Herndon Mayor Lisa C. Merkel and Council Member C. Melissa Jonas hung in there during the hours-long process. Cari Lyn Pierce, chair of the Herndon Preservation Review Board, and Bob Walker, chair of the Herndon Architectural Review, were also on hand to observe. "Doll Homes have been good partners," praised Pierce. "This is not their first dance in Herndon, so they know what we want for the town."
The homes of Monroe Hill will be built in the Craftsman Bungalow style, starting at $716,900 and ranging in size from 2,800 square feet to about 3,700 square feet. Two lots have already been sold. The old farmhouse at 820 Monroe will soon have a new address, and once it's been refurbished and given the "all clear," no doubt it will soon have new owners, as it begins the next phase of its already long and interesting history.