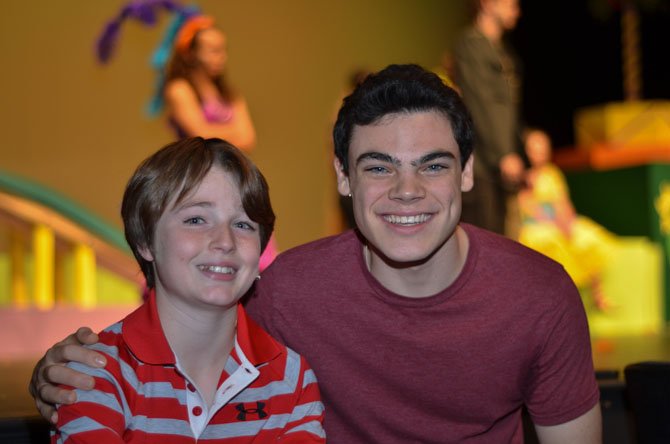 Since September, students of Herndon High School have been practicing and perfecting their presentation of "Seussical," a musical by Lynn Ahrens and Stephen Flaherty based on the books of Dr. Seuss that debuted on Broadway in 2000. "This is the debut production of 'Seussical' at Herndon High School," Zoë Dillard, Herndon High School Theatre Director said.
"Reston Community Players has produced this show, and we are indebted to them for the use of some of their costumes, which we integrated into our student costume designs," Dillard said. Colorful costumes abound in this musical. In "Seussical", The Cat in the Hat tells the story of Horton, an elephant who discovers a speck of dust containing Whos, including Jojo, a Who child sent off to a butter battling military school for thinking too many "thinks."
HERNDON HIGH JUNIOR Drew Lytle will be performing the role as Cat in the Hat, with Solomon Dixon as understudy. "I went out for this character because he is almost everywhere in the show, it is a good challenge for me as an artist," Lytle said. "The Cat in the Hat is not only the narrator but the emcee, in many scenes he is the persona for many characters, he is really high energy."
Henry Metcalf returns to the stage in the role of Jojo, the Mayor's son. "Jojo is a character that goes along with the Cat, a lot of the play involves Jojo's imagination… At first I did not know who the character Jojo was, and then I realized he was a main character and I tried out for him. I have to memorize a lot of lines and that was a bit of a challenge."
Catherine "Cassie" Szymczyk, a senior at Herndon High is performing the role of Sour Kangaroo. "Sour Kangaroo is like a pseudo antagonist, she is full of sass throughout the entire musical," Szymczyk said. "I've been with the theatre department since my freshman year. As this is a musical, we will be bringing the vocal talents, and the acting talents, as well as the orchestra… This has been one of the more complicated shows we have done but also the most rewarding because the cast is so supportive and the show is about bringing back the imagination of childhood."
"It is a great experience, the bonding is incredible. It is a great thing to watch the entire musical come together," said junior Zach Klein, who is playing the role of Who Mr. Mayor. Herndon High School Music Department teachers Dana Van Slyke and Chris Cunningham, Orchestra Pit Director, helped guide musical operations. Alexandra Touzinsky, Herndon High School's new Orchestra Teacher, committed to playing piano in the Pit Orchestra for this show.
High school senior Alissa Clayton and other light technicians and crew help make sure the production is a success. "This is my fourth show doing lights," said Clayton. "With this show, there is much more creativity involved. We have moving lights and changing colors on the stage."
"I am so grateful for all of the people who have supported the creation of this show and all of the hard work the students have put in," said Dillard. "The musical is a major event that requires major effort and sacrifice, but it's worth it, because we create this magical experience together and we get to share it with our community… I'm really thankful for the purity of that opportunity, working with these students, parents and colleagues is a privilege."
"SEUSSICAL" will take place at Herndon High on Friday and Saturday, Nov. 15 and 16, at 7:30 p.m., and Sunday, Nov. 17 at 2 p.m. Tickets are $10 and can be purchased online at herndondrama.org or at the door.