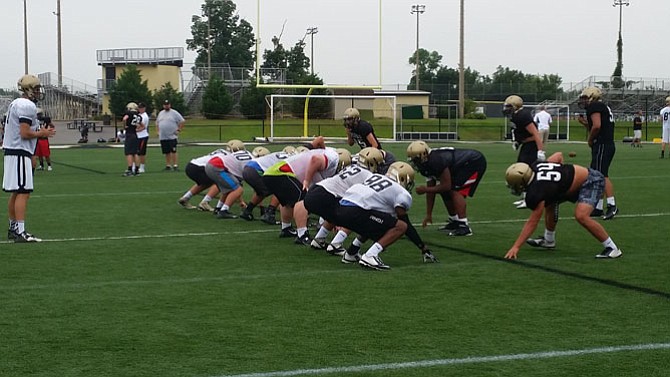 For years, Westfield football has been recognized as one of the strongest teams in the state of Virginia, reaching the region championship game in each of the last four years, losing thrice to 2014 6A state runner-up Centreville, who also competes in Conference 5.
"Getting to those games four years in a row shows that we're on the right track doing a lot of the right things," Bulldogs coach Kyle Simmons said. "We're not going to make drastic changes to the way we run our team, but maybe slight changes that will take us to the next step."
With new special teams coordinator Mike Giancola, Westfield expects their special teams to be some of their strongest weapons.
"Defensively, we are returning seven or eight starters who have seen a lot of playing time," Simmons said. "Because we are returning so many guys defensively, it also gives us strong special teams because most special teams have a lot of defensive guys."
Teams can expect to see more man-coverage defense from the Bulldogs this year.
"We have the resources to be very aggressive on defense," Simmons said.
Naval Academy commit Jack Clancy has proven to be a strong defensive force for Westfield, and has filled the middle linebacker position on varsity for three years, and will step into more of a leadership role as a senior.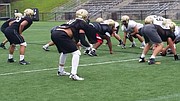 "Defensively, our front line is a huge strength, since we have some big boys," Clancy said. "My role is to be a voice for the team on the field and be a leader so we can hopefully win a state championship."
On the other side of the ball, Westfield is still trying to determine who will fill the offensive positions.
"Offensively, we are returning a couple guys who are really strong players but we have some question marks," Simmons said. "We've got the bodies; we just need to find out who can play and who's going to be able to help us out."
After graduating quarterback Mason Scoville, who threw for 1,692 yards in 2014, senior Tyler Scanlon, who played receiver last year, will step in to fill the position. Returning junior Rehman Johnson may also run the offense.
"We have some more receivers at our disposal this year. We have three or four guys who can really play the position well," said Scanlon, who has received several offers to play college basketball. "[Johnson] is a good young quarterback so we're going to throw some different things in there. One minute I may be in at quarterback, then suddenly I'll be at receiver and he'll be in there. We plan to be pretty creative with our offense."
With lineman Josh Ohanian, receiver Hank Johnson, wide receiver Ivory Frimpong, and tailback Dominique Pearson driving Westfield's offense, the Bulldogs have the ability to produce despite lacking many returners.
"We have a lot of weapons. There are a lot of guys we can put out there to make plays," Scanlon said. "It's an interesting dynamic when your quarterback can run out to receiver and run a route just as good as the other guys. That usually doesn't happen."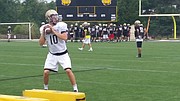 The physical size of the offensive line could also make Westfield a powerful force.
"The offensive line is really strong. They're just big kids, like they're all 300 pounds. They're just massive," Scanlon said. "Last year we had a smaller, more athletic line, but this year, they're much stronger. I think as they learn the system and learn to move around, they'll become a force."
The Concorde District has always proven to create tough competition for Westfield throughout the season.
"[Conference 5] is made up of well-coached teams that can scheme well. They're all good programs," Simmons said. "We're going to try to use that to our advantage so that when we get to the playoffs we will have been tested."
Westfield will begin the season at Washington-Lee Sept. 3. The Bulldogs will travel to Centreville during the second half of the season, hoping to avenge last year's loss in the regional final.
"Centreville is our 'cross-town rival," Scanlon said. "They've worked us hard the past few years, and we like to think we're two of the better teams in the state, so beating them is something we want to do and we're very capable of."
When asked about Westfield's goals for the season, Scanlon didn't have to think long.
"State championship," he said. "That's it."