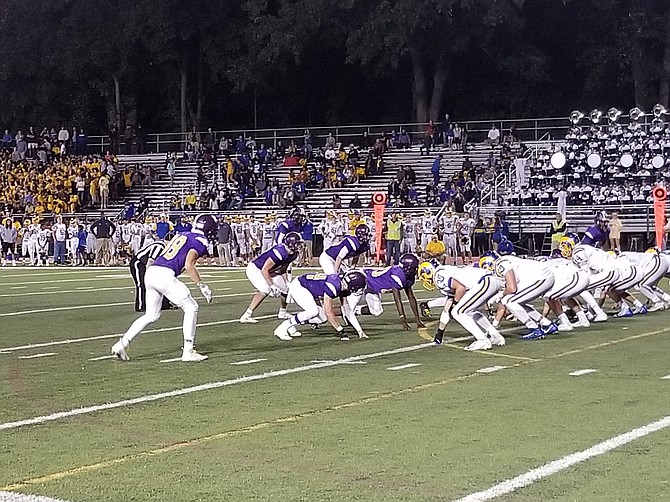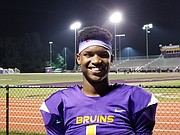 Burke — While the Lake Braddock defense has left a sour taste in opponents' mouths in recent weeks, the Bruins' palates have experienced a sweet sensation — and not just the taste of victory.
If the Bruins shut out an opponent, the defense is rewarded with donuts from Shoppers — and pizza — the following Monday.
Facing rival Robinson on Friday, Lake Braddock defenders ensured they would fill their bellies with sugary treats for a third straight week.
The Bruins recorded their third consecutive shutout, limiting Robinson to 254 yards of total offense, forcing four turnovers and scoring a defensive touchdown during a 38-0 victory on Oct. 5 at Lake Braddock Secondary School.
One month earlier, Lake Braddock suffered a 70-3 loss to Stone Bridge on Sept. 8, dropping its record to 1-2 heading into a bye week.
"I've never been beat like that before," Lake Braddock head coach Mike Dougherty said. "I've never felt that helpless."
Since then, it's been the Lake Braddock defense leaving opponents feeling helpless. During the last three weeks, the Bruins defeated Yorktown, Oakton and Robinson by a combined score of 139-0.
"We've had better practices, we're more focused," Dougherty said. "It seemed to take the same path as last year. Once we got through those first three games, they kind of settled in. … They're just responding to what we're asking them to do. To shut a team like [Robinson] out, a power football team, we really got it done tonight."
THE LAKE BRADDOCK DEFENSE is led by senior linebacker and University of Virginia commit Josh Ahern, who leads the team in total tackles (59) and solo tackles (33) this season despite not playing in the Stone Bridge game due to a "shoulder problem."
"We don't work without him, I know that much," Dougherty said. "He's our quarterback on defense, he's vocal, he's a leader. When he raises his voice, he gets their attention before I do. They respect everything that he's done, what he's going to do. He's a dream to coach. He's just no nonsense."
Ahern finished with 12 tackles (six solo) and two forced fumbles against Robinson.
"I'm really proud of the guys and the way we played," said Ahern, who is listed at 6 feet 3 and 225 pounds. "My high school career and all the seniors, we're 5-0 against [Robinson]. That was our goal: we never wanted to lose to them."
As for the shutout reward, Ahern prefers jelly-filled donuts.
"That's our third straight week of that," Ahern said after beating Robinson. "We're pretty excited about it."
Senior Quentin James, a two-way standout for the Bruins as a receiver and defensive back, prefers glazed donuts. He helped bury Robinson in the final minute of the first half, when he leaped to snag an interception near the sideline before catching a 34-yard touchdown pass two plays later, giving Lake Braddock a 24-0 advantage.
James is still undecided whether he wants to play football or basketball in college.
"He's dynamic," Dougherty said. "It's like he's playing basketball with football equipment. … His ability to get up in the air and catch the ball at the highest point (is strong). I don't know what the colleges are waiting for. He's an offer guy. I've done this 23 years and I don't know that I've had someone at the outside receiver position that electric."
Junior linebacker Stu Reid finished with 15 tackles (eight solo) against Robinson, while junior linebacker Matt Hibner (six solo) and junior lineman Martin Traweek (four solo) each had 10 tackles. Senior lineman Hugh McLean produced eight tackles (four solo), including three tackles for loss and one sack. He also forced a fumble.
Senior linebacker Dylan Coulter returned a fumble 82 yards for a touchdown.
"The defense has stepped up so much," James said. "We knew we were going to get production from Josh and Hugh down the middle, but all of our DBs, except for me, it's their first year playing in the secondary. There are so many people who have stepped up, I'm just so proud of them."
While the defense has been dominant, the offense has done its part, as well.
Sophomore quarterback Billy Edwards completed 17 of 24 passes for 234 yards and three touchdowns against the Rams. For the season, he's completing better than 64 percent of his passes for 1,470 yards and 19 touchdowns, with just two interceptions.
"Years ago, if you had a sophomore, you just counted on losing," Dougherty said. "He's all football all the time. He's starting to get some college attention and it's [deserved]. He's one of the best quarterbacks in this area."
FRIDAY'S VICTORY over the Rams improved Lake Braddock's record to 4-2, including 1-0 in the Patriot District. Next up for the Bruins is a road game against undefeated Woodson (6-0, 1-0) at 7 p.m. on Friday, Oct. 12.
Dougherty was the head coach at Woodson for three seasons prior to taking over at Lake Braddock in 2017. He would have no problem buying donuts for a fourth straight week.
"It's an easy $30," Dougherty said. "We'll spend that every time if we can get shutouts."